Hi there!
Welcome to Our Greene Home Designs!  I'm so glad you stopped by.  Here you'll find inspiration to help build your small business brand to create cohesive, custom looks for all your business needs.  Take a peek at my portfolio, learn a little more about me, and request your free consultation and quote today!
Work With Me
My Portfolio

Website Redesign
Website Refresh for Wellness with Elizabeth
Elizabeth contacted me with interest to makeover her website.  The site had great bones already on a Wix-hosted WordPress platform.  We worked together to pull her finished project design into a cohesive pairing featuring her clean design aesthetic and personal style.  Her main goal was to make her site more user-friendly and easy to navigate.  With the addition of consistent fonts and coordinating color scheme implemented throughout the design, Elizabeth's website came alive! 
She decided to add a new, custom logo design to her package based on a business card style she already had.  Like with her website, we worked together to make a few tweaks to make her new logo POP!  We were then able to take this logo design and the coordinating inspiration to add touches of Elizabeth's style and personality throughout her site.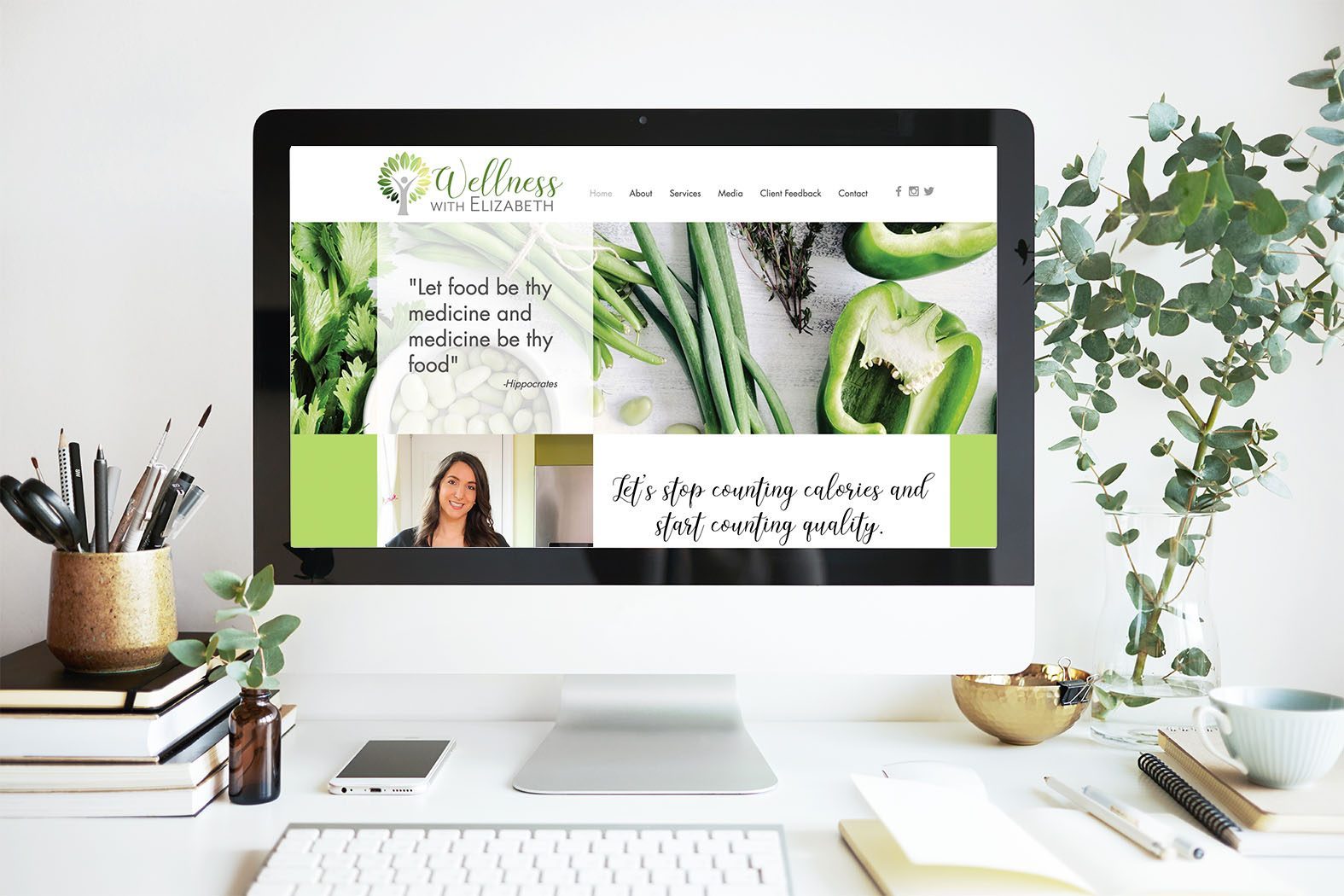 I highly recommend Our Greene Home Designs to anyone with graphic design needs. Leslie did an amazing job refreshing my website and creating a logo for my small business. She is wonderful to work with! She is creative, attentive, professional and efficient. I am so pleased with the finished product, it is taking my small business to the next level!


Graphic Design
Small businesses have my heart.  I started graphic design work a little over 10 years ago as a teeny tiny business making custom birthday paper decoration supplies on Etsy.  I know how important it is to have a cohesive, branded look to set your business apart from your competition.  In years since, I helped my best friend build her fitness business from the ground up. She needed to look professional before she really had a following of clients.  And you know what? We did it.  We successfully built her brand and her following with her signature bright pops of color!  Don't let anyone tell you designs and images don't matter.  They tell your story, convey meaning to your clients, and build loyal and trusted customers.  Let's get started building your small business today!
Branding & Logo Design
One of the most popular packages I offer is a custom logo design.  You will leave with the files you need to use your designs wherever you choose.  Should you need, I also offer other print services such as custom fliers, business cards, and mailers – just to name a few.  Branding creates a cohesive design statement and helps with client acquisition.  I offer a custom branding sheet so you can create pieces that are within your brand no matter what you're working on.  Need me to handle all the extras for you instead? No problem. I have packages that cover that too!
Graphics Packages
I currently offer 3 different graphics bundles with 5, 10, or 20 images. (20 images is the best price per graphic!) You can request image designs at once or use them as you need. As with all my work, each design includes a draft and 2 free edits.  These designs can be used digitally or for print by the user.   Let's get started today!
Why work with me
As an Enneagram 6, I'm a great listener.  This serves me well in this design capacity because I see myself as a support to your business.  I'm here to listen to your needs, learn about your business, and help you build from where you are. I also seek a close attention to detail and usually have a quick turn around time.  Developing a relationship with your graphic designer can help your business so much in the long run.  I grow to know you more, have a feel for who you are and what kind of customers you want to attract, and you have access to a graphic designer who knows your brand and is only an email away!
Built From Scratch
I love to help you build your small business presence. I offer web design packages for do-it-yourself-ers and for those of us who prefer a one-and-done route. You let me know how hands-on you want to be in the process.  Each web design includes a draft design and 2 free site edits.  I strongly suggest checking into my maintenance plans below.
Website redesign
Have something you love, but it just needs a few tweaks?  I'm happy to consult about redesign options.  I love creating a cohesive look with a careful eye.  Although I prefer working with WordPress platforms, I'm happy to work with other platforms.
Maintenance & Updates
I'd love to help you stay up-to-date with your website!  Pricing plans include anything from weekly services to yearly check-ins.  Interested in having a go of it yourself? Ask me about my video walk-through tour showing you how to add specific details yourself.

Website Development
I primarily work with GoDaddy hosted WordPress sites.  I find them to be a good bang for your buck and an all-in-one deal for your small business.
Options to add-on include:
Custom Domain Names
Site Security Licenses (makes it an https:)
Custom Email with your Domain
and more!
Hi! I'm Leslie. I hope you're enjoying my little corner of the world. Here's a little bit more about how I work.
My Approach
Always having a heart for design, I enjoy the creative process of designing pieces for the needs of my clients.  It is so fun to have the ability to think outside of my personal design aesthetic.  I love working with clients to see their own dreams and ideas come to life!  There is nothing better than getting the "YES! That's exactly what I had in mind!" at the end of a project. I get a chance for creative expression and my clients get a chance to have great, quality pieces to further their small business brand.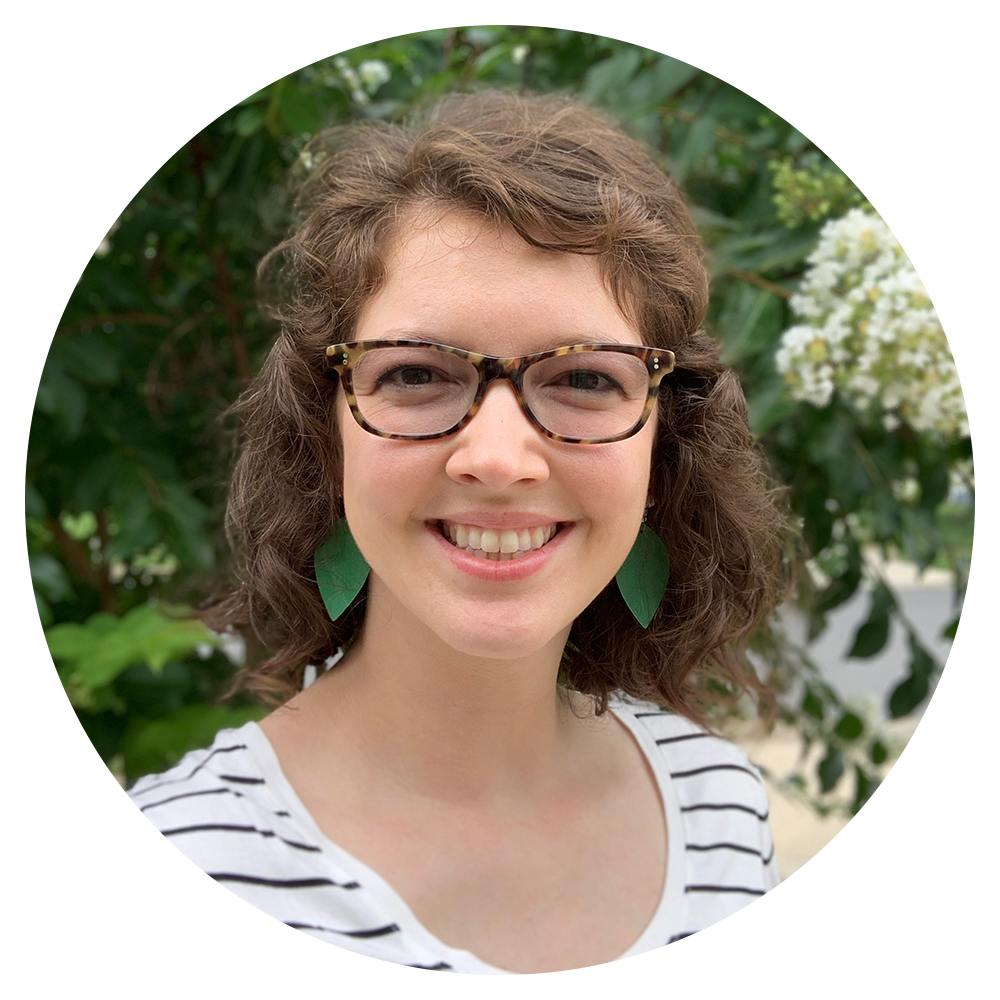 Leslie at Our Greene Home Designs has done a remarkable job designing our
website
. She created an avenue for us to have a solid Facebook presence and ensures our designs for social media represent our message. Leslie continues to develop new and exciting designs for church bulletins and Power Point slides that capture the mission of the message. Leslie's work is of superb quality and her turnaround time is exceptional. It has been a true joy to work alongside Leslie. Our Greene Home Designs gets ⭐️⭐️⭐️⭐️ from us!

Featured Products
Click here to see the entire collection of products in the shop